Use our Activities feature to create and manage your classes, sessions and camps.
Once you've created your Community you can get started adding your activities, however before you start we recommend completing the following checks first!
Security Settings - found in the Settings menu under 'Edit' worth checking before you get started you can see more information here.
Make sure the Activities Feature is turned on, if you're not sure you can check how to here.
If you're taking payments for holiday activities see here how to setup your merchant account before you get started with the below.
How to Create your activity
1. Details
Image 🖼️ Engage your potential participants by uploading a camp image.
Activity Title 🖊️ Name your holiday activity, this appears on the Finder.
Category 📄 Use categories to organise your activities. You may have categories for different age groups or different types of activity. This makes it easier for Participants to find what they are looking for.
Type of Activity 🏃 select the type of holiday activity you are running from our physical activity list or our 'Other' activities which include activities like arts, crafts and food & drink.
2. Description
Use this section to write a short description about your activity that we can display to your participants.
Include information on what happens at your activity, what participants should bring with them, who it is suitable for, and parking information for pick-up and drop-off.
3. Participants
We've added some extra fields to help you target the participants you'd like to attend. You can include: the difficulty of your activity, which disabilities your sessions are suitable for, and what age range is eligible for your activity.
ℹ️ You can leave this section blank if none of the fields are relevant.
4. Scheduling
Set the frequency of your activity (the schedule), whether it occurs:
📅 Every Day
📅 Every Week (select weekdays)
📅 Every Two Weeks (select weekdays)
📅 Every Month (select date)
You can then set when you'd like your schedule to start from, by using our date picker select the date range that you'd like your activities to run within.
There are also some other options for you to take advantage of:
Open and Close booking deadlines ⏱️
Set an Organiser to manage your registers 🙋
Limit the number of places that are available ⛔
Select the venue for your activity 🏟️
The duration of you activity (start and end time) ⏲️


5. Payments
This section allows you to set the cost of your activities:
Free activities:
You can select your activities as FREE, and if you have any additional equipment that can be booked you can include this by setting your 'add-ons'.
🎾 For example, you could set a tennis racket as an add-on with a maximum limit of 8 that can be borrowed.
👉 Find out more about add-ons here.
Taking payments:
This section allows you to set your costs and take payments for your holiday activities. If you haven't already set up your Merchant account you will need to complete this step before you can complete the steps below. Find information on how to set up your Merchant account here.
💳 You'll need to set the 'standard price' for your activities first
👤 Select the Merchant account that you want to receive payments to
👉 Add any additional pricing options for tiered pricing, booking bundles and add-ons
There are some other useful articles we've created to help you manage your payments:
👉 Understanding booking bundles
6. Eligibility
You'll need to use groups to power the booking form for your activities. On this page select YES, lets set it up on this step.
👋 If you're in need of some extra eligibility we've pulled together an article on how to manage groups here.
7. Notifications
We have some extra notification settings for activity providers, so take a look through and see what will work for you.
Remember that these are based on an individual participant's preference settings. These notifications are designed to engage your participants and act as free marketing for your activity whilst reducing your admin when promoting and managing your activity.
ℹ️ You can also leave this section blank if it's not applicable.
8. Promotion
There is in-built promotion settings in Playwaze for you to take advantage of at the final stage of creation.
☑️ I would like this activity to be listed on my activity widget, embedded on my website
👋 We also can promote your holiday activity with OpenData, read more about it here: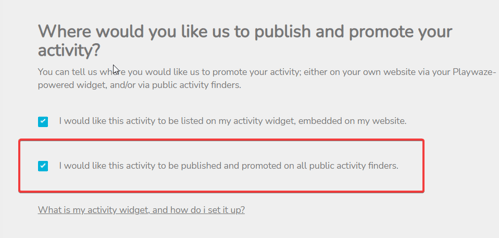 Once you're happy with all of your selected settings hit Finish to make your activity live!

Ready to share your activity with your community, we've got that covered for you to, take a look here.