Alongside hiding your activities, you can now archive old ones that have no future dates to clear your homepage.
We've recently introduced the ability to 'Archive' your activities from your community homepage:
📌Hidden from Share links and Finders
📌Hidden from bookings on web and app
📌Admins will still see all activities (including hidden ones)
📌 Archived Activities will show behind the filter so you can still access them!
You can find the option to Archive your activity by clicking on the settings cog ⚙️ and selecting 'Archive'.

You'll see the below message at the top of your activity:

You can still view all your Archived activities from your Community homepage, by selecting Archived in the filter:

To show your archived activities again, simply click into the archived session, select the settings cog ⚙️ and select Un-Archive: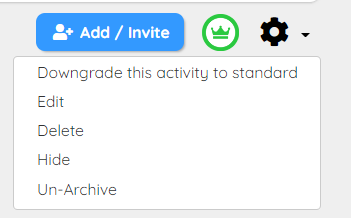 ⚠️ Activities will be automatically archive after 15 days of it being past the final date