How do I update or change my password?
Here's how you update your password.
ℹ️ Before you get started if you're logged in on your device you will need to Log Out.
To request a new password you will need to click 'Forgotten password', this will display on the login page below the email and password field.
On Web it look a little something like this:

Click here to request a new password.
On App it looks a little something like this: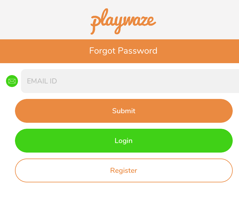 📩 Once you have requested a new password you'll receive an email from Playwaze. This will direct you to re-enter a new password. Once the process is complete you can log back in on your devices.
Logged in and just want to change your password?
Click your Username (Top Right)
Click 'Change Password'
Complete the form and click 'Change Password'
If you have any problem contact support@playwaze.com.